I saw this post the other day, and I just couldn't resist fancying up some ramen noodles.  In college, I think I survived on ramen noodles, Diet Coke, and Snack Wells cookies (it was the 90s, you know)!
I'll tell ya, though, this ramen is nothing like the 10 cent ones I used to make in the microwave. First of all, I splurged and got the 99 cent variety….It certainly looks more authentic, right?  And no MSG is a good thing.  Second, it's really all about the toppings.  And third, this version is really spicy.   It will make you sweat!  John and I thought it was great, but the kids had something else for dinner.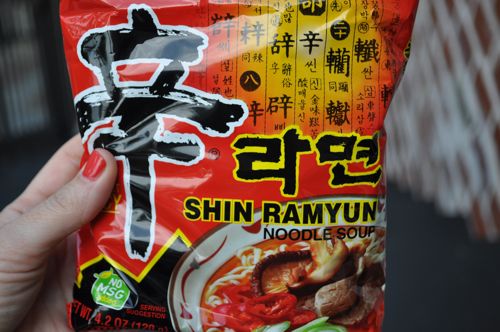 Rockin' Ramen (adapted from Laura Hobbs at The Fayetteville Flyer)
2 packages ramen noodles
2 cups water
2 cups low sodium chicken broth (you can use vegetable to keep it vegetarian)
1 spice packet
2 tablespoons soy sauce
2 teaspoons grated ginger
2 teaspoons sesame oil
mushrooms (crimini or shiitake), chives, cilantro, toasted sesame seeds, fresh lime juice, and Sriracha for serving
Bring the chicken broth and water to a boil.  While you are waiting, heat a bit of olive oil in a nonstick pan and cook the mushrooms on high.  When they are brown, sprinkle with salt and pepper.  When the water and broth boils, add the seasoning packet and soy sauce.  Then, add the noodles and cook 4-5 minutes.   Remove from the heat and add the grated ginger and sesame oil. Pour the soup into a bowl, and top with mushrooms, chives, sesame seeds, cilantro, Sriracha, and a squeeze of lime juice.