Want to hear a funny story?  Last week I was at Sams alone (being alone anytime, anywhere is unusual for the summertime), and remembered I needed a couple of cloves of garlic for a recipe. I was short on time and didn't want another trip to the grocery store with kids in tow, so I ended up with a package of about 1,000 cloves of garlic from Sams.  Hmmmm, that's a lot of garlic.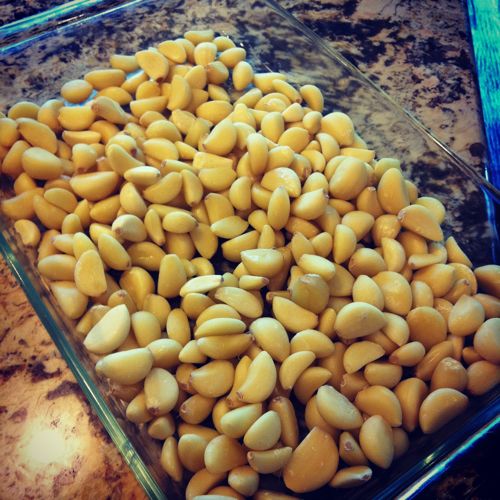 I made Slow Cooker Garlic Chicken with 40 cloves, and that didn't even make a DENT in my supply.  The 960 cloves of raw garlic were seriously smelling up my refrigerator, so I roasted all of it and cheap oakley sunglasses stuck it in the freezer. Be on the lookout for many more recipes using roasted garlic in the near future!  By the way, do you have a good recipe using roasted garlic?  Tweet or Facebook me!  I need some help!!
Roasted Garlic Bruschetta
1/4 cup olive oil
1/4 cup balsamic vinegar
2 tablespoons sugar
1/2 teaspoon salt
freshly ground black pepper
2 whole green onions, sliced
9 basil leaves chopped
1 pound tomatoes, cut up
1 whole baguette sliced
goat cheese
roasted garlic (recipe follows)
Mix the oil, vinegar, herbs, and spices, and add tomatoes.  Allow to marinate 2-3 hours or longer.
Slice baguette, drizzle with olive oil.  Broil for 2-3 minutes, until the slices start to brown. Turn them and broil for 2-3 more minutes.  Spread each slice with roasted garlic and top with tomatoes.  Garnish with goat cheese.
Roasted Garlic
You can also roast an entire head of garlic, but I had pre-peeled cloves so I did it this way.
garlic
olive oil
salt and pepper
Drizzle garlic liberally with olive oil.  Sprinkle with salt and pepper.  Roast garlic in the oven in a glass casserole dish covered with foil at 400 degrees for 30-45 minutes, stirring occasionally, until garlic is brown and very soft.  You can then mash it up with a fork or puree it in the food processor.