I haven't been cooking too much this summer, have you?  In Northwest Arkansas, temperatures are at or above 100 right now, and I cannot even think of turning on the stove!  We've been eating a lot of sandwiches, some fairly uninspiring salads, and way too much takeout.
So while you're not busy cooking, it's a good time to stock up on recipes and ideas.  And inspiration!  Do you like kitchen gadgets like I do?   If I had unlimited space and money I bet my kitchen would look like the inside of a Williams Sonoma.  But who has space for a special tool just for avocados or knife only for watermelon?
There are a few things I have in my kitchen that I love, that go beyond measuring cups and wooden spoons.
1) The salad spinner is one tool I find completely necessary, even though it's bulky.  You MUST wash lettuce even if it's "triple washed" (you know that, right?) and a salad spinner is the only way to get it dry. Like the glamour shot of my salad spinner?
2) A good quality chef's knife, mine is Wustof.  It's pricey, yes, but you won't ever buy another knife.
3) The Microplane.  I just adore this thing.  Not only is it made right here in Arkansas, but it can be used to grate all sorts of things.  I use it most frequently to zest lemons and limes and to grate Parmesan cheese.
4) A long serrated knife.  You can't cut a loaf of bread with a regular knife, nor can you slice a tomato. You must have a serrated edge for those.  A serrated knife is that specialty knife that you must have.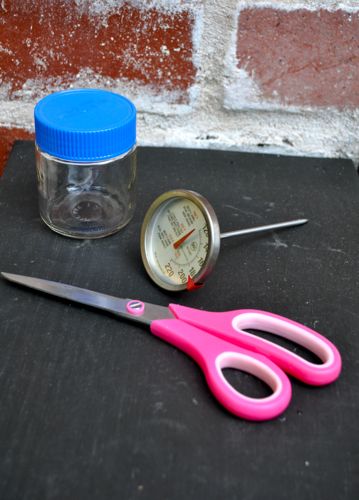 5) A small jar with a lid. I talk a lot about making my own salad dressing, and the quickest and easiest way is in a small jar.  You can add the ingredients and just shake it up.  If you have any leftover, just save it for later in that same jar.
6)  Meat thermometer.  If you ever cook beef, a thermometer is a fool proof way to insure you don't overcook it.  Or for chicken, the best way to keep from getting salmonella!  My thermometer is not fancy and I think it just came from Walmart.
7) Kitchen scissors.  I CANNOT live without scissors in the kitchen.  I don't know about you, but I can't open anything without them these days.  Scissors in our house have a tendency to disappear for craft projects and playing school, so I just have several pairs of cheap-o scissors in my kitchen drawers.  I put them in the dishwasher anytime I use them near raw meat, and when they get rusty I just throw them away.  You can also use them to cut up herbs directly into a dish or cut bacon up into the pan.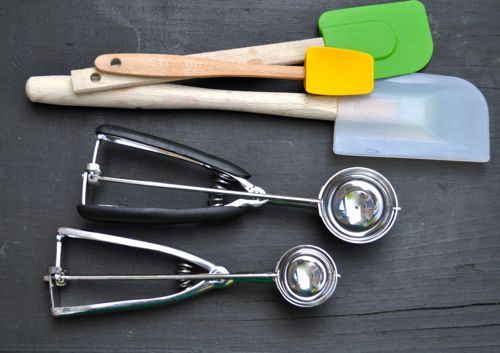 8 ) Rubber spatulas in different sizes.  I like the ones you can't melt and I use them for everything.  Stirring, flipping, scraping, spanking…..haha.
9) Ice cream scoops.  The small one, in particular, is a favorite of mine.  Use it for cookie dough and keep your hands clean and your cookies.  The big one is the perfect size for scooping cupcake batter or muffins.
10) Wait, did I say Top 10?  I only have 9.  What should I add?