All posts in:
Miscellaneous
Tips for making gingerbread houses: 1) Use melted white almond bark to assemble the house. Melt the bark in the microwave for a couple of minutes and then spoon it into Ziplock bags. … Read more »
I find tahini at Whole Foods.  You can leave it out, and I've also heard you can substitute peanut or almond butter. Let me know if you try that!
You're basically only making the meatballs here, so this recipe is really quick and easy!
This Quinoa Salad is so good you'll want to make it over and over again!  Try it with chicken or just by itself for a vegetarian option.
Cracker Candy. Christmas Crack. Saltine Toffee. You know this stuff. It's the best.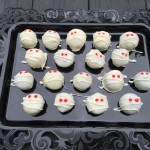 Here are a few easy treats your kids will love for Halloween! These Oreo Mummies are delicious! Click here for the full recipe. Nutter Butter cookies dipped in white chocolate with chocolate… Read more »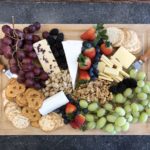 This cheese board was for a girls' night, so I kept it light with 4 cheeses, a little fruit, a few nuts, and some crackers.  Meats like salami and prosciutto are a great addition. Some people like… Read more »
This whole remodel business started with the kitchen.  Our previous kitchen was not functional for our family.  When we built our house in 2004, we had one baby.  We didn't know we'd eventually be a family… Read more »
Remodeling the entire master bath wasn't exactly in the plan.  We had some damaged tiles we were going to replace, and were planning to repaint the cabinetry.  But then, after we got into the shower,… Read more »
After Christmas, we moved on to redecorating the kids' rooms.  I'm really proud of how these turned out because my budget was tiny and it was all DIY.  I repurposed furniture from all over the… Read more »