If you follow me (@amypopejames) on Instagram, you know we are finishing a major kitchen and master bath remodel, which is part of our grand plan to redecorate/remodel our entire house in a year.  I'm so excited to show you all the before and after pics, but first, I wanted to show you step one of our project.  We first redecorated our basement family room back in November 2015.
The room was chocolate brown and brick red, which was so cute in 2005, but after 3 little kids using the room as a playroom, it was time to redecorate! We lightened up the decor with new paint, carpet, and furniture.  With the help of the amazing Katie Henry, we created a happy, fun room.   We all love spending time there, and it's quickly become the go-to spot for sleepovers as well!
Here's the before and after: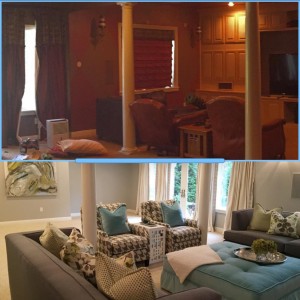 Here are Abby and Alex's favorite spots for playing xbox.  At night, you can find John and me chain watching our newest show. Right now, it's 11.22.63 on Hulu.
Design: Katie Henry, Katie Grace Designs 
Paint: Sherwin Williams Collonade Gray
Fabrics and Wallpaper (behind tv): Fabric Gallery, Springdale, AR
Carpet: Encore, Springdale, AR
Furniture: Sofas and chairs, Bassett Furniture; Ottoman, custom
Lighting: online, Shades of Light
Accessories: Pottery Barn, HomeGoods, Howse