This whole remodel business started with the kitchen.  Our previous kitchen was not functional for our family.  When we built our house in 2004, we had one baby.  We didn't know we'd eventually be a family of 5!  We didn't need more space, but we needed the space to work better for us.
Here's the before: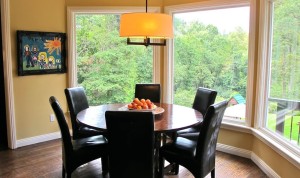 We removed the angled wall (where the original oven was) and peninsula and replaced it with a straight wall to create, basically, a rectangular space.   We added all new cabinetry, trim, backsplash, appliances, and lighting.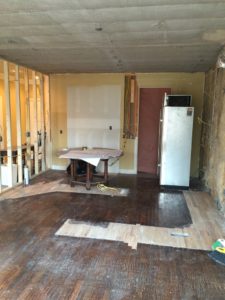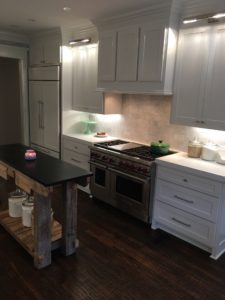 We replaced the kitchen table with a more functional island that serves as additional prep space as well as an eating area.  I wanted to do Carrera marble counters, but that's not practical for us, so we did a quartz countertop with a Carrera tile backsplash and ran it to the ceiling in the eating area. This is my favorite part of the kitchen!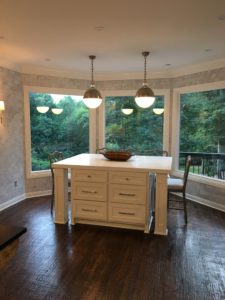 By adding the new wall, we gained even more cabinet and counter space.  The little hearth room off the kitchen was there before, but we added some new swivel chairs to create a cozy reading area.
I wish I could give you a 360 view, but here's a panorama shot.
I'd love to tell you about every detail, but even a month after #JamesRemodel2016 is complete,  I am still exhausted. Message me if you want to chat about it.  We moved to a rental house for 6 weeks and then moved back home before the remodel was complete.  We lived in the dusty basement (everything was dusty) for 2 weeks, eating from a makeshift kitchen consisting of a microwave, a yeti, and a mini fridge.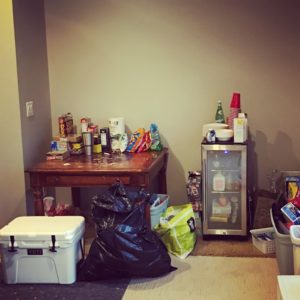 Oh and we got a dog while all that was going on.  We are all so glad we did it!  But this is the end of James family home improvement projects for a while.  THE END.
Design: Allison Thurmond Quinlin/Flintlock Architecture
Construction: Damon McDonald/McDonald Building Group 
While we were at it, we redecorated our living and hearth rooms, too. I love it so much!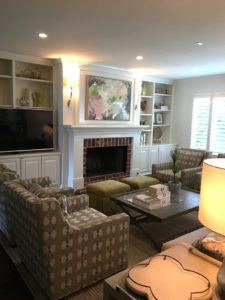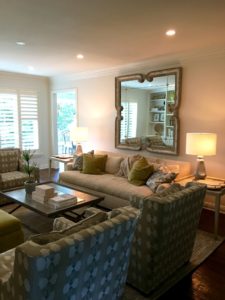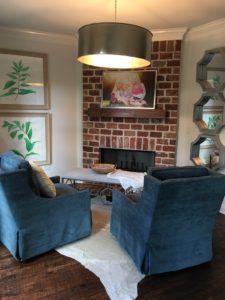 Design: Katie Henry of Katie Grace Designs