I'm so happy to have been invited to be a featured guest at the one year (virtual) birthday party for Blacklisted From the PTA, a hilarious book by author Lela Davidson, about parenting, family, and marriage.  As a mother, wife, suburbanite, and card carrying PTA member, I could totally relate to so many things in Blacklisted!  Leave a comment to enter to win a signed copy.
I read the book before I met Lela, and now that I can call her a real life friend, I'll tell you that she is just as funny, smart, snarky, and kind as she seems to be.   Thanks, Lela, for inviting me to your party, and allowing me to be in the company of so many other smart and snarky women!!  Check out her blog each day in July to read posts from her other guests.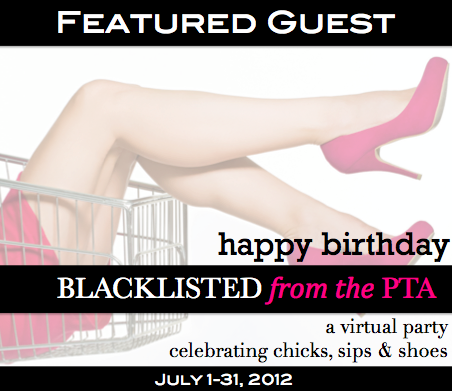 And because you can't have a party without snacks, here's a recipe for you.   I have served these so many times that my friends expect them!  They are perfect for entertaining because you can make it all beforehand, freeze it if necessary, and just pop them in the oven 15 minutes before you're ready to serve.
Spicy Mushroom Palmiers
4 cups finely chopped crimini and button mushrooms
1 tablespoon olive oil
1 finely chopped yellow onion
3 cloves garlic, minced
1 teaspoon red pepper flakes
1 tablespoon each finely chopped fresh rosemary, thyme, and parsley
1 teaspoon kosher salt
1/4 cup balsamic vinegar
4 ounces cream cheese (half a block)
1/4 cup grated Parmesan cheese
2 sheets puff pastry, thawed (find it in the freezer section of the store)
1 egg plus 1 tablespoon water
Allow the puff pastry to thaw for about half an hour.  Meanwhile, chop the mushrooms, onion, garlic, and herbs.  Saute onions in olive oil over medium high heat for about 5 minutes, or until they are translucent.  Add the garlic, and red pepper flakes, and stir.  Then, add the mushrooms, turn up the heat to high, and cook for 10 minutes, or until all the liquid is gone from the mushrooms.
Lower heat to low, and add the herbs and salt and pepper to the mushrooms.  Add the balsamic vinegar to deglaze the pan, then when all the liquid has evaporated, add the cream cheese.  Add the Parmesan cheese at the end.  Allow mixture to cool to room temperature.
Lightly beat an egg with 1 tablespoon water.  This is the egg wash (or glue) that holds everything together.   Roll out the puff pastry to about 9″x11″.  Brush with the egg wash.  Spread half of the mushroom mixture all over the puff pastry.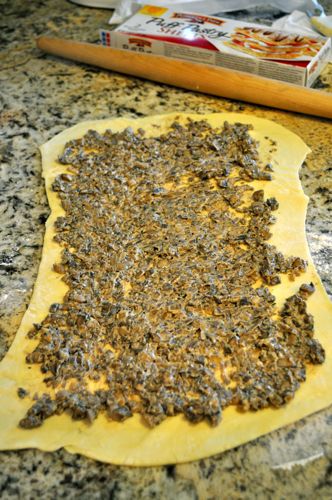 Fold top and bottom edges of pastry to the center…you are basically rolling each side toward the center until they meet.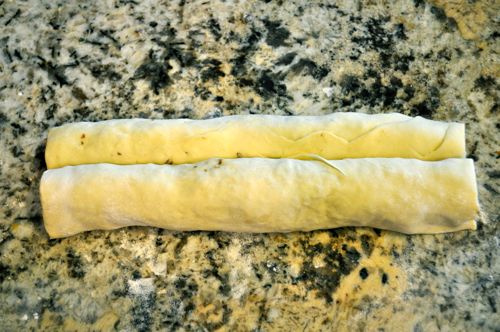 Chill for one hour, or freeze until ready to use.  Cut into 1/4 inch slices, brush with egg wash, and bake at 400 for 14-15 minutes or until brown.  Serve hot or room temperature.
If you'd like to win an autographed copy of Blacklisted from the PTA,  leave a comment on this post telling me about your favorite party food.    I'll pick a winner at random in one week on Monday, July 16.