We like desserts around my house.  So much so that I try not to make them too often or I'll end up eating all the leftovers!  Here are my top 5 favorites…there is a bit of a chocolate theme.  They are all very easy, and a few of them won't even heat up your kitchen.
5.  S'mores Bars. Like s'mores, but better.  And you don't have to be camping to eat them.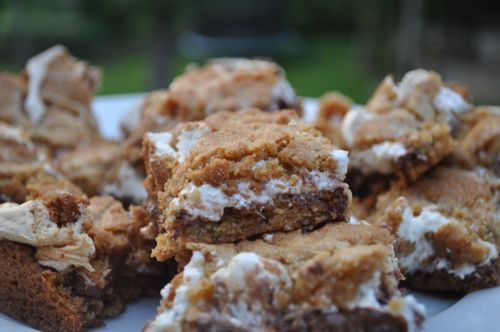 4. Homemade Frozen Yogurt.  Goodbye, Pinkberry, hello fat magliette calcio a poco prezzo thighs!  Knowing how easy it is to make frozen yogurt is dangerous.  There is also a recipe in this post for Homemade Hot Fudge.
3. Chocolate Thumbprint Cookies. My family's favorite cookie.  It's a Martha Stewart recipe, so it's also on the list because I'm seeing Martha Stewart at BlogHer '12!
2. Salted Caramel Pretzel Bark. The easy to delicious ratio on this candy is high.  The hardest part is waiting until they cool to eat.
1. Brownie Batter Dip. This is my most popular post ever (pictured above).  Many of you guys are here because you saw this picture on Pinterest.  Thank you for reading! While I'm at BlogHer, I promise to learn lots of wonderful things that will make Our Everyday Dinners even better!