Tips for making gingerbread houses: 1) Use melted white almond bark to assemble the house. Melt the bark in the microwave for a couple of minutes and then spoon it into Ziplock bags. … Read more »
The almond extract in the frosting makes these bars taste like Crumbl cookies!
This is the best Pecan Pie recipe.  Use a refrigerated crust (the kind you roll out) and no one will know it's not from scratch!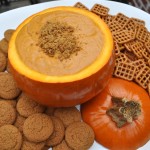 Perfect for a fall party!
Using this shortcut of frozen mini phyllo shells makes homemade coconut pie really quick!  This recipe yields one regular sized pie or 30 mini pies.
This recipe comes from a restaurant in Gentry, Arkansas called The Wooden Spoon.  It's worth the trip!
Cracker Candy. Christmas Crack. Saltine Toffee. You know this stuff. It's the best.