I think I'm finally recovered from the nonstop talk-and-laugh-fest that was the Arkansas Women Bloggers Unplugged Conference last weekend.  Seventy five completely diverse women from all over the state gathered in the hills of Arkansas to learn, meet new friends, build community, support one another, and have a great time.
A lot happened throughout the weekend (even a marriage proposal…she said YES!), and of course, each blogger has her own take on it.  Go on over and read some of the blogs about the conference, and find a new blog or two to add to your blogroll!
My first order of business was Foodie Friday.  Bloggers talking about food, how to photograph food, styling food, cooking food, and best of all, eating? Yes, please.  I was also honored to be on a panel to talk about generating content for your blog.   AND they gave me an apron that was custom color-matched to my blog.  I told you this was an amazing weekend!
After all the learning, we had  a little Iron Chef competition to prepare appetizers for the rest of the bloggers arriving for the conference.  First, we got a chance to look over all our ingredients.  Then they gave us our secret ingredient: thyme.
Ceri and I were chosen as the team leaders (I guess since we were the food bloggers in the group, or maybe because we're bossy), and we got to cooking!
Our entries into the competition were Bacon and Mushroom Crostini with Brie and Thyme (pictured above) and Bacon-Wrapped Arkansas Peaches.
Bacon and Mushroom Crostini with Brie and Thyme
1 small onion, chopped
2 cloves garlic, minced
5 slices bacon
1 quart button mushrooms
1/4 cup balsamic vinegar
1 tablespoon fresh thyme
salt and pepper
softened brie
bread, cut into triangles and toasted
Chop bacon and saute with onions and garlic until cooked, about 5 minutes.  Add mushrooms and cook until mushrooms are soft.  Deglaze the pan with balsamic vinegar and add salt, pepper, and thyme.  Spoon mushroom mixture onto toasted bread spread with softened brie.  Garnish with fresh thyme.
And the grand prize WINNER for the Iron Chef competition was the Bacon Wrapped Arkansas Peaches with Thyme .  No recipe needed. Beautiful!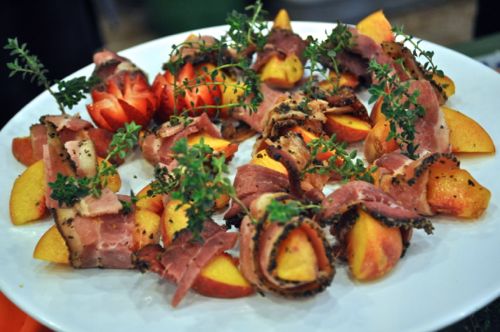 A special thank you to the Arkansas Women Blogger gals Stephanie, Beth, and Julie, along with Lyndi, for organizing such a wonderful event.  Also, thanks to Ziploc for all our swag (including the baggies for the Sooie Snacks), and Petit Jean Meats for the ingredients for our winning dishes.
Oh, and thanks to my friends, Fawn, Stephanie, Lela, Shannon, and Angie, to name a few, for a fabulous weekend.