Remember a few months ago when I told you about The Day I Hung Out with The Pioneer Woman?  Well, that was a teaser title because that day was just a photo op for about 100 bloggers.   We chatted for a second, but she also chatted with everyone else for a second.
But last weekend, I FOR REAL hung out Ree.  I went to a bloggers conference in Atlanta and I got to have coffee with her, along with Stephanie McCratic and Stephanie Buckley.  I could gush on and on about SMac and SBuck, but I'll save that for another time.   I do want to point out that I didn't draw that picture of Arkansas…
I've been reading The Pioneer Woman for years.  When her first cookbook came out, Kathy stood in line to get her to sign a copy for me and I felt like I had won the lottery!  I love that cookbook and I think I've cooked most of the recipes.
On Saturday afternoon, we met Ree for coffee and we laughed and chatted like we were all old friends.  She's just delightful!  We talked about Seinfeld, plastic surgery, boots, and all sorts of random things.  I totally admire her as a blogger, and you know I adore her recipes.   As were leaving, we took several pictures with her.  A few pictures in, the silly took over, I guess. That kind of happens to me a lot.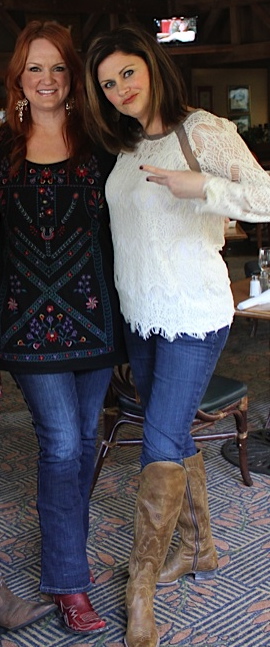 Ree laughed and looked at me and said, "did you just flash a gang sign?"  I giggled uncomfortably, "I don't know what just happened there."  I'm pretty sure she's scared of me now and that invitation to the lodge won't be coming anytime soon.  Oh well, I'll cherish our time there at Callaway Gardens.