One of my main problems with Junior High (aside from not being able to open my combination locker and my hair) was the food.   The cafeteria food was inedible, bringing your lunch was dorky (it was 1987, and "dorky" was the word I used to describe everything), and the vending machines contained mostly candy.  But we did have a line they called "A la Carte" which was french fries, pizza, nachos, and frito chili pie.  I think I ate Frito Chili Pie everyday of 7th grade because it was the best option, and I don't think I've had one since!
My friend, LeAnn, is on the left. Why are we so smiley? Did we not know we had terrible perms??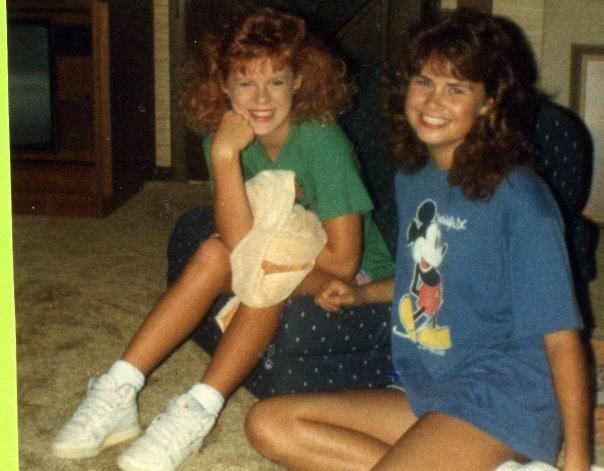 John made his Famous Chili on Sunday, so we got to have Frito Chili Pie tonight.  I can attest to the fact that this recipe is much better than my Junior High's.
John's Famous Chili
3 lbs ground chuck
1 large onion, chopped
6 garlic cloves, minced
3 cans diced tomatoes
2 cans red kidney beans
6 oz tomato paste
3 tablespoons chili powder
1 tablespoon cayenne
1 teaspoon ground cinnamon
salt and pepper to taste
In a dutch oven, cook onions and garlic until soft, about 5 minutes.  Add the ground chuck and cook until browned.  Add tomatoes (undrained), beans (rinsed and drained), tomato paste, chili powder, cayenne, cinnamon, and salt and pepper.   Cook uncovered for 30 minutes or longer.
For Frito Chili Pie:
Ladle chili over Fritos and top with cheese.