All posts in:
Main Dishes
Not every dinner around here is Pan Seared Cod with Mexican Quinoa  or Grilled Chicken with Rosemary Mushroom Gravy .  Most nights we have some version of chicken/fish with a veggie and salad and sometimes rice or… Read more »
I've got one child who always orders the chicken fingers off a kids menu and would eat them everyday if I served them.  So I started making these Homemade Chicken Fingers years ago for her… Read more »
This meal is so fresh it will make you want to run around the block after dinner!  I always enjoy these flavors together.
This Pan Seared Cod with Mexican Quinoa is inspired by my favorite fish tacos we had in San Diego last summer.  I think I dream about them sometimes, but if you're like me, you're trying… Read more »
Five thumbs up on this recipe!  The kids passed on the sauce and the serrano peppers, but the chicken and rice were huge hits.  John and I LOVED this recipe.  We really like these types… Read more »
These were a huge hit with the family.  John and I included!  Baking the taquitos instead of frying them makes them much better for you, and they still get really crispy when you use the… Read more »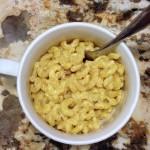 When I read this recipe I thought it was too good to be true.  One pot for creamy mac and cheese?   No roux?  No whisking? Only one cup of cheese?  No way.  But guess… Read more »
If you are doing a dinner swap, you want to cook recipes that have easy prep and are fairly inexpensive.  You are making numerous dishes of the same meal, so soups, stews, pasta bakes, and… Read more »
My friend, Jaime, made these enchiladas for our dinner swap.  These enchiladas are perfect for a dinner swap because they can go in the freezer for later, or be baked immediately.  They were delicious, and… Read more »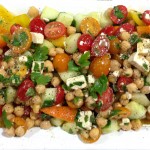 It's been awhile since I've been to a blog conference, and I guess I forgot rule #1 of blog conferences: take lots of pictures (it's most certainly NOT don't talk about the conference).  Somehow Stephanie,… Read more »