All posts in:
Main Dishes
Most Baked Ziti recipes call for layering the pasta, sauce, and cheese like you would with lasagna.  This recipe is a little different than the others:  it calls for mixing the cooked pasta with the… Read more »
I served this Chicken Piccata with roasted potatoes and broccoli,  and I drizzled a little of the lemony-butter sauce over those as well.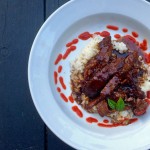 My family's favorite dish at P.F. Chang's is their Mongolian Beef.  And while I enjoy P.F. Chang's, I don't like the prices or the fact that our P.F. Chang's is 20 minutes away.  This recipe… Read more »
Step one: Throw frozen chicken breasts and a jar of salsa into the slow cooker on low in the morning. Step two: Come home from a busy evening, heat up some cheese dip and… Read more »
This casserole would be great for brunch or dinner.  I served it with a big salad, and added ham to half for the meat-eaters in the family.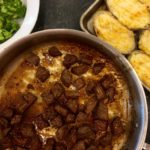 These Steak Bites seem retro to me, so I served them with twice baked potatoes and broccoli.  The whole family really liked this meal!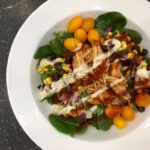 Tangy bbq sauce and creamy ranch, paired with a quick corn and black bean salsa are a great combo! I added a little jicama to my salad because I had some leftover, but that's optional…. Read more »
I'm not a huge chicken salad fan.  I don't like it when you can't really see all the ingredients and it's all one color. And since I don't like mayo, I typically find chicken salad… Read more »
I typically prefer slow cooker "dump" recipes. You know, where you dump in all the ingredients and come back in 8 hours for dinner.  But I've been busy lately, and I've had to use my… Read more »
This recipe will change the way you feel about making fajitas at home because it's so easy. There is quite a bit of chopping, so if you'll have a busy evening, chop everything the night… Read more »