All posts in:
Main Dishes
I'm not a huge chicken salad fan.  I don't like it when you can't really see all the ingredients and it's all one color. And since I don't like mayo, I typically find chicken salad… Read more »
You're basically only making the meatballs here, so this recipe is really quick and easy!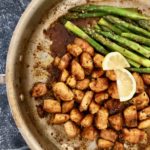 I like to make this recipe with asparagus, but fresh green beans or broccoli would work, too.
Use leftover or rotisserie chicken to make this dish even quicker.
Ask my kids, this is their favorite meal.  I like to serve these Chicken Nuggets with roasted potatoes and Brussels sprouts (olive oil, salt and pepper, roast at 450° for 10-12 minutes).
This is a family favorite!
Serve this salmon with any green veggie and rice or cauliflower rice for a quick weeknight meal.
Serve this healthy salad with a side of sour cream.
Make this dish spicier by adding more Sriracha.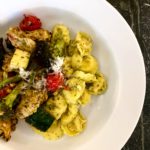 Use 2 sheet pans if you need to so chicken and veggies are in a single layer.  Add any veggies you like. Use pesto from the refrigerated section of the grocery store, or make… Read more »