All posts in:
Main Dishes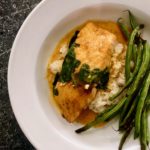 You can grate fresh ginger with a microplane, but I prefer this ginger paste that I find in the produce section of the grocery store.
This dish takes about an hour start to finish, but it's worth it to get the onions caramelized.  If you don't like mushrooms, leave them out.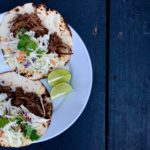 For fresh ginger, just peel the ginger and grate with a grater. Or you can use this shortcut ginger paste I find at Walmart.
USDA suggests roasting pork tenderloin to 145° for medium. I like it a little more well done, so I let it go for 5 more minutes.
Use any herbs you like and just throw them into the food processor. This Green Goddess sauce also makes a great salad dressing!
I've made a lot of salmon, and this is now my favorite!
Measure and chop everything before starting and this meal comes together very quickly!
Chicken Spaghetti is a church potluck staple in the South, and you're guaranteed at least 2 pans in your freezer when you have a baby.  To me, it's the ultimate comfort food because it's simple,… Read more »