All posts in:
Main Dishes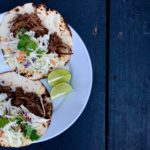 For fresh ginger, just peel the ginger and grate with a grater. Or you can use this shortcut ginger paste I find at Walmart.
USDA suggests roasting pork tenderloin to 145° for medium. I like it a little more well done, so I let it go for 5 more minutes.
Use any herbs you like and just throw them into the food processor. This Green Goddess sauce also makes a great salad dressing!
I've made a lot of salmon, and this is now my favorite!
Measure and chop everything before starting and this meal comes together very quickly!
Chicken Spaghetti is a church potluck staple in the South, and you're guaranteed at least 2 pans in your freezer when you have a baby.  To me, it's the ultimate comfort food because it's simple,… Read more »
Use butternut squash or sweet potatoes in this recipe. Serve the bowls buffet style and let everyone make their own.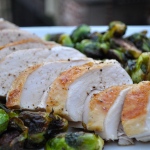 If you are hosting a small group for Thanksgiving, you might consider roasting a bone in, whole turkey breast instead of a full turkey. It really couldn't be easier, and if you have white meat… Read more »
This recipe calls for soaking the dry beans overnight. If you forget to soak them, you can bring the beans to a boil, let them soak for an hour, rinse them, and then cook. … Read more »