All posts in:
Main Dishes
We love Middle Eastern and Indian food in our house, but if you don't, this is a great intro recipe!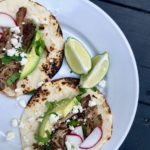 Don't skip the last step of broiling the carnitas for 5 minutes!  The meat will get crispy and deliciously caramelized.
Make a quick ranch dressing using a dry mix or just use your favorite bottled dressing.
While not the same cuts of meat, you can substitute flank steak, tri tip steak, or hangar steak in this recipe (thanks Whole Foods butcher for the tutorial!). But always slice the meat against the… Read more »
Substitute any fish and any fresh herbs in this recipe.
I like to serve this Grilled Chicken with lots of cut up veggies and pita bread.
No need to boil the noodles! Just soak them in hot tap water while you get everything ready for the lasagna.
Use ground all white turkey if you don't have ground chicken.