All posts in:
Main Dishes
I buy frozen, peeled, deveined shrimp.  Thaw shrimp in a colander under cool running water for a few minutes.
If you like the vegetables to be brown, don't crowd the sheet pan! Separate the ingredients onto 2 pans for perfectly cooked vegetables. Mix and match your favorite vegetables, add more sausage, or add whatever… Read more »
For the the au jus part of the French Dips, you can just serve the cooking liquid on the side.  To make it even more delicious, strain the liquid, add a 1/4 cup red wine,… Read more »
This Quinoa Salad is so good you'll want to make it over and over again!  Try it with chicken or just by itself for a vegetarian option.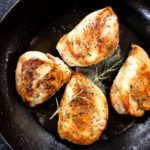 This is the way I cook chicken at least once a week; it's so easy and everyone in the family likes it.  The secret to getting the chicken good and brown is to leave it… Read more »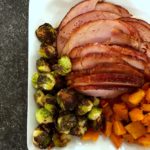 Ham is a great choice for the holidays because it feeds a crowd and is easy to cook.  Add the brown sugar glaze during the last 30 minutes of cooking. For this recipe, look… Read more »
Ask my kids, this is their favorite meal.  I like to serve these Chicken Nuggets with roasted potatoes and Brussels sprouts (olive oil, salt and pepper, roast at 450° for 10-12 minutes).
Serve this Creamy Chicken and Spinach Bake with a side of cauliflower rice or some mashed potatoes.  Use chicken cutlets for this dish, or slice thick chicken breasts in half horizontally to make them into… Read more »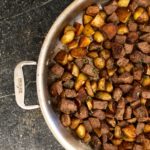 Serve this Steak and Potatoes Skillet with a side of steamed broccoli or a big salad.  You can substitute 2 teaspoons Italian Seasoning or Poultry Seasoning if you don't have fresh herbs.
This is the creamiest Mac and Cheese ever! Perfect comfort food. Serve it with a salad or if it's Halloween, as a side to Mummy Dogs!