Tomorrow I am participating in a day of blog silence in remembrance of our friend, Matt Turner, who was killed in a car accident on Saturday.  But today, I want to tell you about something awesome some bloggers are doing to support sweet Julee and their baby, Preslee Bell (I don't think they even know Julee IRL, they are bloggers taking care of their own!) Next week, let's all go shopping and BID BIG to donate to baby Preslee's college fund!  If you have something to donate, contact the bloggers.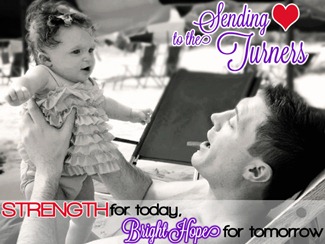 Next week, October 15th through the 19th, these bloggers (Life in the Green House, Life Sweet Life, Knee-Deep in Munchkin Land, The Getts Times, SheShe Made) will be conducting a silent auction with all proceeds going to Julee and Preslee.
To Donate an Item:
Create a post detailing the item up for auction. Include a description and/or picture.
On Monday, October 15th visit any of the above blogs and list your item. Make sure to use the direct link to that specific post.
Once the auction ends on Friday, October 19th, we'll have you email us with the winner's name, email address, and the amount of the winning bid. We'll invoice the winner.
To Bid on an Item:
On Monday, October 15th, visit any of the above blogs to view the list of donated items.
If an item interests you, click on the link to read more information.
To place a bid, leave a comment on that blog's post leaving your email address and your bid. Be sure to check the list often as new items will be added throughout the week.
****In addition, in lieu of flowers for the funeral tomorrow, memorials may be made to the Preslee Turner College Fund at Summit Bank, Box 965, Arkadelphia, AR 71923 or any Summit Bank location, Arkadelphia, Conway, Benton, Bryant, Malvern, Hot Springs, Hot Springs Village, Hope and Magnolia.****