I have the secret trick to getting to the most moist, fudgey, and dense brownie you've ever tasted. But you have to read this post to find out.  On another note, I totally don't understand people who like cake-like brownies…
I made a couple of batches of these brownies for the Food Blogger Bake Sale this Saturday.  The bake sale benefits Share Our Strength's No Kid Hungry campaign to end childhood hunger in America, an excellent cause.  There are bake sales being held all over the country, but if you're in Central Arkansas, stop by the Argenta Market between 9 and 2 on Saturday, May 4 and buy my brownies!  Isn't the packaging so cute?  Visit Our Everyday Dinners on Facebook to find out more about the cool design.
The Ultimate Chocolate Brownie (adapted from Barefoot Contessa)
makes a half sheet pan (that's a lot, by the way)
1 pound (4 sticks) unsalted butter (don't substitute salted or your brownies will be too salty)
1 pound plus 12 ounces semisweet chocolate chips
6 ounces unsweetened bakers chocolate (not the powder)
6 extra large eggs
2 1/4 cup sugar
1 tablespoon instant coffee
2 tablespoons vanilla
1 1/4 cups flour
1 tablespoon baking powder
1 teaspoon salt
Preheat oven to 350.  Spray a half sheet pan (aka cookie sheet or 12x18x1 baking sheet) well with cooking spray.
In a large bowl over simmering water (or a double boiler), melt 1 pound of chocolate chips, the butter, and the unsweetened chocolate.  Allow it to cool slightly.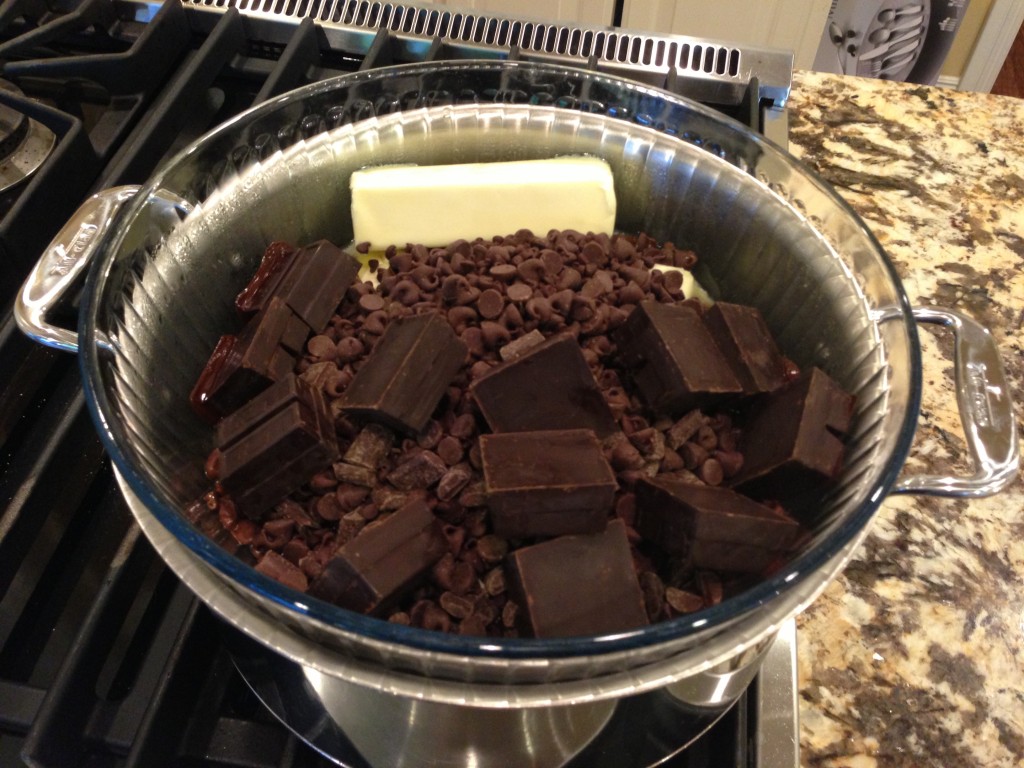 In a large bowl, stir together the eggs, coffee, vanilla, and sugar.  Stir the warm chocolate mixture into the egg mixture and allow to cool to room temperature (this is an important step or you'll melt the rest of the chocolate chips and you won't have the proper texture).
In a medium bowl, whisk together 1 cup of flour, the baking powder, and salt. Add it to the cooled chocolate mixture. Toss the remaining 12 ounces of chocolate chips in a medium bowl with a scant 1/4 cup of flour, then add them to the chocolate batter (mixing the chips with flour keeps them from sinking to the bottom of the batter). Pour into the baking sheet.
Bake for 20 minutes, then pull the pan out of the oven and slam it down on the kitchen counter.  THIS is how you get the most dense, moist, and fudgey brownie ever.  It forces the air out of the pan.  Bake for about 10 additional minutes, until a toothpick comes out clean.  Allow to cool thoroughly and refrigerate overnight before cutting.
Did you get that?  The way to get a dense, rich brownie is to take the pan out of the oven about halfway though, and slam it down onto the counter to release the air bubbles.  It works, and it's fun, too!