If you live in the South, then I'm sure you're familiar with fried okra, so no explanation is needed.  If you don't, then well, let me show you a few things…
Fried okra (or ok-ree if you are really country) is a summer staple on many farming family tables.  Okra is drought tolerant and it loves the heat and humidity, which is what we've got in the South in the summer.  From what I understand, it's great for you and high in vitamins, but leave it to us to make it completely unhealthy and delicious by dunking it in oil!   When okra is fresh, it's best dredged in cornmeal and fried.  It just is.  I've put a twist on the traditional way by cutting the pods lengthwise and adding a dipping sauce.  Let me know what you think!
This recipe was inspired by my friend, Mary Beth Shaddix, who posts beautiful pictures on Instagram of the produce from her "garden".  Check her out!
Okra Fries with Herb Aioli
1 pound fresh okra
2 extra large eggs
1 cup yellow cornmeal
1/2 teaspoon salt (more or less, to taste)
1/2 teaspoon black pepper
canola oil for frying
Cut okra lengthwise.
In a bowl crack eggs and beat them.  In another bowl, add the cornmeal, salt and pepper.  Dredge okra first in the egg, and then in the cornmeal.  Shake off any excess cornmeal.
Fill a dutch oven (how about a Le Creuset French Oven?) about 1/3 way up with canola oil.  Heat oil over medium high heat until it's hot.  You can test it by adding a piece of okra and if it sizzles, it's ready.  Add the okra in batches, don't overcrowd the pan.  Fry until the okra is brown on all sides, about 5-6 minutes.  Remove okra from pan and let it drain on paper towels.   Add more salt, if you'd like.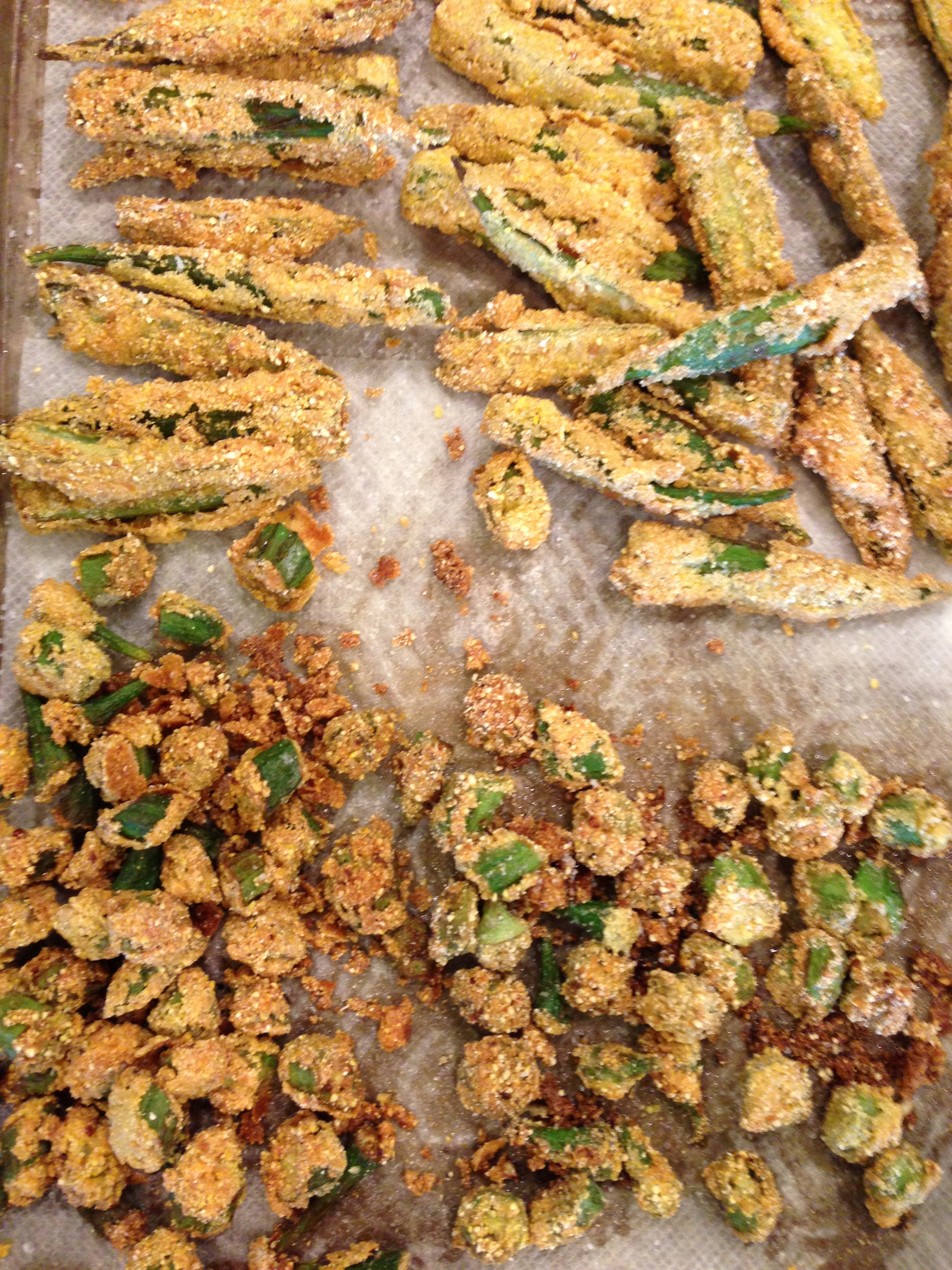 I was trying out 2 ways of slicing the okra.  I'm very scientific over here.
Garden Herb Aioli (want to see a demo? Click here. )
1/2 cup fat free Greek yogurt
1/4 cup real mayo (like Hellman's)
2 cloves of garlic grated with a microplane (don't chop it or you'll bite into raw garlic)
juice of one whole lemon
salt and pepper to taste
1 tablespoon fresh herbs (basil, sage, mint, chives, and parsley, or whatever you have)
Just mix it up with a wisk until combined.