The recipe is certainly an oldie, probably dating back to the 1950s, and while it has several different names, I prefer Hello Dolly Bars.  I didn't tweak this perfect recipe, and you can find it… Read more »
This recipe is a wonderfully simple illustration of the empty tomb, AND it's a dessert…double duty!   Your kids will love it. He is risen, indeed! Happy Easter.
Are you a cake person or a pie person?  People tend to be one or the other, you know.  I'd take pie any day, and all day.  I'd even rather have a birthday pie.  Tonight… Read more »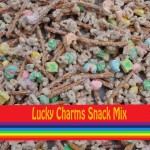 This is a super fun snack for the kids (or adults!) on St. Patrick's Day.  Make it extra cute by using only green and yellow M&Ms (Alex sorted them out of a big bag of… Read more »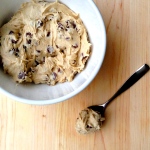 We all know the best part of chocolate chip cookies is the dough.  But I always feel like I'm poisoning my kids by letting them have a spoonful.  Here's a cookie dough that won't… Read more »
I love this tart as an alternative to traditional pecan pie.  And if you bake it in a pretty tart pan, it looks beautiful, too.
How fun is this Halloween Blog Hop? Thanks for stopping by. If you're visiting me from Heather or Gina's blogs, welcome! Consider this recipe a little pit stop in your story.  And you can go… Read more »
There are several fruit cobbler schools of thought.  You've got your pie crust based cobbler (my favorite), cakey ones, biscuit-based ones, and struesel-topped ones.  Then you've got your crisps, crumbles, buckles, and Brown Betties. Whatever… Read more »
We just got back from a wonderful trip to Rosemary Beach, Florida.  I always like eating at local spots on vacation, and we had the best key lime pie at Summer Kitchen Cafe in Rosemary…. Read more »
I love a good cheesecake, but perfect cheesecake can be a little tricky. Seems like when I try a whole one, the center falls or I get cracks. But these mini ones could not be… Read more »