How fun is this Halloween Blog Hop? Thanks for stopping by. If you're visiting me from Heather or Gina's blogs, welcome! Consider this recipe a little pit stop in your story.  And you can go make these cookies really quickly and get back to reading.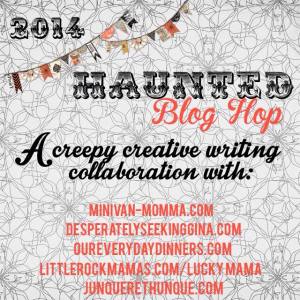 You can use either white almond bark or pure white chocolate for these ghosts.  I used almond bark because it's much easier to work with, but I think white chocolate tastes better.  If you use white chocolate, add 2 tablespoons of vegetable shortening and melt it very gradually, stirring every 15 seconds, and work quickly when dipping the cookies.
Spooky Ghost Cookies
1 lb. white almond bark OR 8 oz. white chocolate chips plus 2 tablespoons vegetable shortening
1 package Nutter Butter cookies
1/4 cup mini chocolate chips
Prepare a cookie sheet with wax paper.
Cut up the almond bark so it will melt quickly and evenly.  This is my new favorite knife. It's the Zwilling J.A. Henckels Pro Rocking  7″ Santoku.  I used it chop the almond bark, but it's a perfect all purpose knife.
Melt almond bark in the microwave in 30 second increments, stirring well after each 30 seconds.   Dip cookies halfway into the white chocolate.
Add the mini chocolate chips for the eyes and place the cookies on the cookie sheet to cool.  Let cool completely.
Now, hop on over to Yavonda's blog to read more of the spoooky story!