Early on Saturday morning while everyone was still asleep I snuck out to the Bentonville Farmers Market.  My first love will always be Fayetteville, but wow, Bentonville's got it going on! Vote for your favorite farmers market here.
The Bentonville Farmers Market is on the square, which is also home of the first Walmart store.   If you're ever in the area, it's a really interesting museum about the history of Walmart.
I love going to the farmers market just to look at the beautiful, local produce.
And the flowers? Oh, how I wish I had a garden with these growing in it!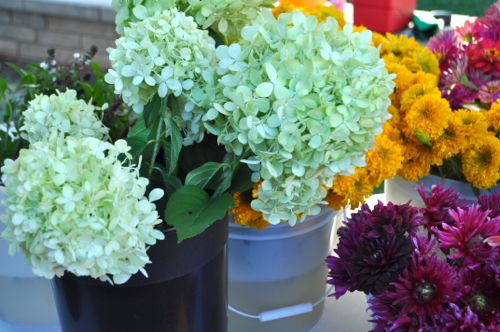 Any good farmers market has live music, right?  I love the name of this group: Farmer and the Markets.
I met up with Kelly and her girls, and they helped me navigate my way to the square, where we found Lindsey and Paige.   Yarnell's was also there giving out ice cream.   Like how I'm posing with my free ice cream?  I'm very cool like that.
I loaded all my produce, flowers, bread, and super cute headband into my Mary Poppins bag (that's what I call this tote), and rushed home to get the beautiful flowers in a vase! See all my pictures here.
Farmers Market Panzanella (inspired by the James Beard Foundation)
3 tablespoons olive oil
1 loaf crusty bread, cut into 1-inch cubes
1 teaspoon salt
1/4 teaspoon pepper
2 large ripe tomatoes
1 cucumber, cut into chunks
1 orange or yellow bell pepper, cut into chunks
1/4 red onion, thinly sliced
5 large basil leaves, coarsely chopped
3 tablespoons red wine vinegar
juice of one lemon
1/3 cup olive oil
1/2 teaspoon kosher salt
1/4 teaspoon freshly ground black pepper
Chop up the bread, drizzle olive oil, toss with salt and pepper, and toast in the oven at 400 degrees until it starts to brown, about 5-7 minutes.
For the vinaigrette, whisk together the vinegar, lemon Ray Ban outlet juice, olive oil and salt and pepper.
In a large bowl, mix the tomatoes, cucumber, pepper, onion, and basil. Add the bread cubes and toss with the vinaigrette. Season liberally with salt and pepper.
Serve immediately, or allow the salad to sit for about half an hour for the flavors to blend.
This shop has been compensated as part of a social shopper insights study for Collective Bias™ andDowntown Bentonville, Inc. All opinions are my own.