All posts in:
Soup and Salad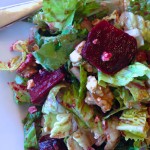 If you haven't tried roasting beets, then get to it!  Roasting beets makes them taste so much better than those gross canned ones, almost sweet, and the texture is significantly less slimy.  Sounds good already,… Read more »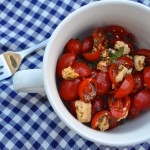 There is a food truck in my town that has amazing soups with the best names (my favorite name is "When Oprah Met Gayle").  But the thing I can't get enough of is Mary Margaret's… Read more »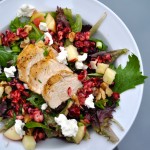 I've mentioned here several times that I don't like cranberry sauce (not fresh or canned).  But I do really enjoy fresh cranberries!  This salad combines creamy goat cheese, crunchy walnuts, a sweet vinaigrette, tart cranberries,… Read more »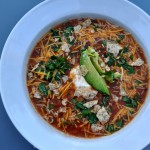 For our dinner swap this week, I made our favorite Chicken Tortilla Soup for everyone.  It's perfect for a fall day, and since I used my food processor, the prep was really easy. I chopped… Read more »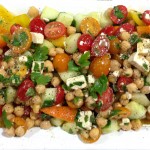 It's been awhile since I've been to a blog conference, and I guess I forgot rule #1 of blog conferences: take lots of pictures (it's most certainly NOT don't talk about the conference).  Somehow Stephanie,… Read more »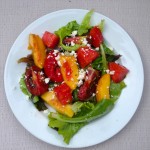 There is just nothing like summer tomatoes, peaches, and watermelon.  They are in abundance at every roadside stand and farmers' market right now.    One of my favorite local restaurants, Brickhouse Kitchen, has this fabulous… Read more »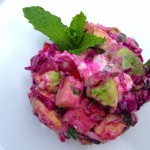 In my produce box this week I got 3 small beets.  Not really enough beets to serve as a side or a main salad component, so I started searching the ol' interwebs for beet recipes…. Read more »
There are a ton of recipes for fruit salad out there, from healthy to Cool Whip.  I made this one up after I forgot the yogurt we were planning to go with the fruit, but… Read more »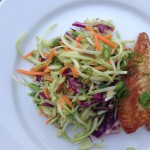 There is this coleslaw that my BFF, Christy, loves. We call it Crunchy Coleslaw, but it's often called Chinese Coleslaw or Ramen Coleslaw.  Unfortunately, it's basically junkfood masquerading as a salad.  It's got  Ramen noodles, the… Read more »
What a delicious salad! It's got all sorts of textures and flavors going on.  It's wonderfully healthy meatless dinner, and you'll have plenty of leftovers for lunch.