All posts in:
Soup and Salad
This shortcut Caesar Salad recipe is so good and so easy you'll make it over and over (I do!).   Add chicken and make this salad a full meal. Store extra dressing in the refrigerator… Read more »
Don't skip the step of searing the beef! It only takes a few minutes, and it makes a huge difference in flavor.   The spinach and rosemary are optional, but I recommend both!
This Quinoa Salad is so good you'll want to make it over and over again!  Try it with chicken or just by itself for a vegetarian option.
I like this recipe because you can just throw everything in the slow cooker, come back 4 hours later, and dinner is ready!
A lady at church gave me this recipe when I got married, and I'm sure I've made it well over 100 times. I like to serve Taco Soup with toppings like cheese, sour cream, avocado,… Read more »
You can substitute any vegetables you like in this recipe.  Fresh green beans, zucchini, sweet potatoes, or squash would be great!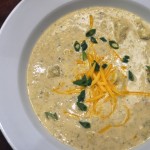 I like to grate the cheese for this recipe because it melts better than pre-shredded.  Serve Broccoli Cheese Soup with garlic bread and a big salad.
This is the creamiest Mac and Cheese ever! Perfect comfort food. Serve it with a salad or if it's Halloween, as a side to Mummy Dogs!
This was a hit with the whole family and requires only assembly, no cooking!  Look in your store for meatballs that don't have many ingredients and good quality marinara.
Every Southerner has her own way of making Chicken and Dumplings. This is my favorite way for a rainy, cold day.