All posts in:
Soup and Salad
I have a couple of different tomato soup recipes I use, but this one is really my favorite. I don't make it as often as this recipe because it has a lot of butter and… Read more »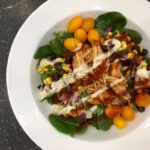 Tangy bbq sauce and creamy ranch, paired with a quick corn and black bean salsa are a great combo! I added a little jicama to my salad because I had some leftover, but that's optional…. Read more »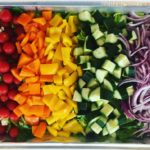 You can toss all the ingredients together, or line up the veggies Roy G. Biv style. Either way, this salad is delicious.
To make the Grilled Cheese Croutons, make a grilled cheese like you normally would  (no crust), and press the sandwiches using either a panini press or just a heavy pot on top of the sandwiches… Read more »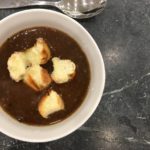 Instead of putting the whole bowl under the broiler to melt the cheese (traditional way), I cut the baguette into cubes, put cheese on top, and broiled it a bit.  I, then, put the cheesy… Read more »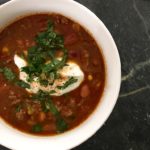 I've had this recipe for 20 years, and it's always good.   My favorite way to eat it is with sour cream (or Greek yogurt), lots of cilantro, and plenty of fresh lime juice.  … Read more »
This sauce is so good I think it could even be a soup!   It's perfect for a cold Sunday evening when you have some extra time at home to babysit the sauce while it… Read more »
The addition of the Monterey Jack cheese makes this White Bean Chicken Chili the best I've ever made! This recipe came from a good friend who has been making it for years.
I found these delicious Cara Cara oranges at my Whole Foods, but you could substitute grapefruit or regular oranges.   I like the peppery bite of the arugula with the tartness of the oranges, combined… Read more »
This time of year when we are all getting colds, I like to serve Chicken Noodle Soup pretty frequently.  This is my go-to recipe when I use the slow cooker.   It's a simple… Read more »