All posts in:
Soup and Salad
This sauce is so good I think it could even be a soup!   It's perfect for a cold Sunday evening when you have some extra time at home to babysit the sauce while it… Read more »
The addition of the Monterey Jack cheese makes this White Bean Chicken Chili the best I've ever made! This recipe came from a good friend who has been making it for years.
This time of year when we are all getting colds, I like to serve Chicken Noodle Soup pretty frequently.  This is my go-to recipe when I use the slow cooker.   It's a simple… Read more »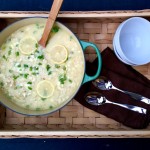 This recipe is a great twist on traditional chicken noodle soup.  The lemon zest really gives it that distinct lemon flavor, don't leave it out!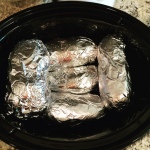 Baked potatoes aren't too difficult to make (throw them in the oven and walk away), so even though I've seen this around Pinterest for years, I've never tried it. But today, I needed dinner ready… Read more »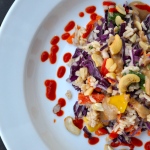 As the holidays approach, I'm always looking for a recipe that is figure friendly, can be made in advance, feeds a crowd, and isn't turkey. Thai Rice with Ginger Peanut Sauce fits the bill!  … Read more »
It's soup weather!   This Creamy White Bean soup is a winter staple of ours because 1) it's healthy 2) it's cheap and  3) it's easy.   You can prepare this recipe in the slow… Read more »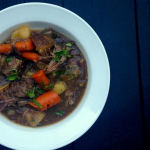 I've just discovered something! Did you know you can cook a roast FROM FROZEN in the slow cooker?  This is a game changer for me. Because, I don't know about you, but I never remember… Read more »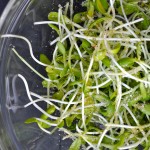 Last week at The Arkansas Women Bloggers' Conference in Rogers, Arkansas, I got the chance to try sunflower sprouts for the first time.  One of my new favorite local restaurants, The Farmer's Table in Fayetteville,… Read more »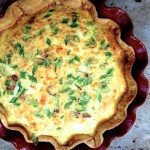 Quiche is one of those meals you can throw together with anything you have lying around.   That night you forgot to plan dinner? Quiche! That Sunday night when you just can't get off the… Read more »