I typically prefer slow cooker "dump" recipes. You know, where you dump in all the ingredients and come back in 8 hours for dinner.  But I've been busy lately, and I've had to use my slow cooker in place of my oven a lot more than I usually do.  This pork roast recipe was delicious after a long day, even though it required browning the roast first (I actually did it the night before while I was cooking dinner, stashed it in the refrigerator overnight, and started the slow cooker in the morning).  I grabbed some sides from Whole Foods on my way home, and dinner was on the table in 5 minutes.
Slow Cooker Pork Roast
2-3 pound pork roast (pork shoulder or butt roast, not pork tenderloin)
1 tablespoon olive oil
4 cloves garlic, minced
1 small onion, sliced thinly
1 tablespoon fresh rosemary and thyme, chopped (can substitute dried herbs de Provence)
2 cups chicken or beef stock
Kosher salt and freshly ground black pepper, to taste
In a large skillet, heat olive oil over high heat.  Cook pork roast on all sides until very brown.
Transfer roast to the slow cooker*.  Top with garlic, herbs, onion, salt and pepper.  Pour stock around the roast, filling the slow cooker about halfway.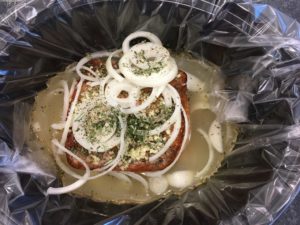 Cook on low for 6-10 hours.  Roast will shred easily using 2 forks for serving.
*TIP: I use Slow Cooker Liners for easy clean up.