All posts in:
Slow Cooker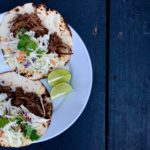 For fresh ginger, just peel the ginger and grate with a grater. Or you can use this shortcut ginger paste I find at Walmart.
This recipe calls for soaking the dry beans overnight. If you forget to soak them, you can bring the beans to a boil, let them soak for an hour, rinse them, and then cook. … Read more »
Throw your chicken in the slow cooker 4-5 hours before dinner, and then all you have to do is shred it and assemble the nachos. And everyone loves nachos!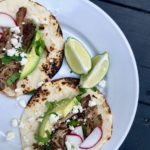 Don't skip the last step of broiling the carnitas for 5 minutes!  The meat will get crispy and deliciously caramelized.
Make a quick ranch dressing using a dry mix or just use your favorite bottled dressing.
For the the au jus part of the French Dips, you can just serve the cooking liquid on the side.  To make it even more delicious, strain the liquid, add a 1/4 cup red wine,… Read more »
Don't skip the step of searing the beef! It only takes a few minutes, and it makes a huge difference in flavor.   The spinach and rosemary are optional, but I recommend both!
I like this recipe because you can just throw everything in the slow cooker, come back 4 hours later, and dinner is ready!
This was a hit with the whole family and requires only assembly, no cooking!  Look in your store for meatballs that don't have many ingredients and good quality marinara.