Archive for November, 2018
A lady at church gave me this recipe when I got married, and I'm sure I've made it well over 100 times. I like to serve Taco Soup with toppings like cheese, sour cream, avocado,… Read more »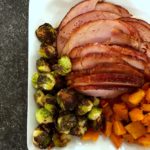 Ham is a great choice for the holidays because it feeds a crowd and is easy to cook.  Add the brown sugar glaze during the last 30 minutes of cooking. For this recipe, look… Read more »
You can substitute any vegetables you like in this recipe.  Fresh green beans, zucchini, sweet potatoes, or squash would be great!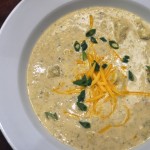 I like to grate the cheese for this recipe because it melts better than pre-shredded.  Serve Broccoli Cheese Soup with garlic bread and a big salad.
Serve this Creamy Chicken and Spinach Bake with a side of cauliflower rice or some mashed potatoes.  Use chicken cutlets for this dish, or slice thick chicken breasts in half horizontally to make them into… Read more »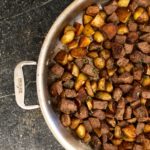 Serve this Steak and Potatoes Skillet with a side of steamed broccoli or a big salad.  You can substitute 2 teaspoons Italian Seasoning or Poultry Seasoning if you don't have fresh herbs.
This is the creamiest Mac and Cheese ever! Perfect comfort food. Serve it with a salad or if it's Halloween, as a side to Mummy Dogs!