You can adjust the heat by adding more or less jalapeno.  Add the seeds for a very spicy salsa!
I find tahini at Whole Foods.  You can leave it out, and I've also heard you can substitute peanut or almond butter. Let me know if you try that!
Roast sweet potatoes in the oven or just pop them in the microwave for about 10 minutes!  
This is the creamiest Mac and Cheese ever! Perfect comfort food. Serve it with a salad or if it's Halloween, as a side to Mummy Dogs!
Here's a different kind of side dish that I know you'll love. Even my kids ate these onions!
The hard skin on the acorn squash requires a little longer cooking time than other veggies, but the end result is worth it for this pretty side dish. The little bit of sweet from the… Read more »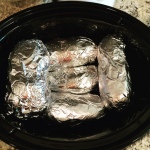 Baked potatoes aren't too difficult to make (throw them in the oven and walk away), so even though I've seen this around Pinterest for years, I've never tried it. But today, I needed dinner ready… Read more »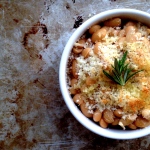 I'll tell anyone who will listen about my love for beans.  I actually high-fived a friend at dinner the other night when she said she liked to cook beans for her large family.   If… Read more »
If you are preparing Thanksgiving dinner, you might be a little overwhelmed with the turkey. Or maybe with all the desserts. Who even knows how to make dressing?  Well, Roasted Brussels Sprouts will be a… Read more »
Let me start out by saying that I'm not a baker.  I'll make an occasional cookie or pie, but when it comes to bread,  I haven't had much success.  I even have a bread machine…. Read more »