Archive for December, 2012
In all the hustle and bustle of Christmas Eve, you can't forget the reindeer!!  They get hungry, too, you know.  Make this up and sprinkle it on your lawn before bed on the 24th.
You've seen the sugar cookie bars all over Pinterest, haven't you?  I've had those, and while they are delicious, I have a twist on the recipe for the holidays.  There is a secret ingredient in… Read more »
Have you been eating too much? Yeah, me too.  It's so hard during the holidays to stay on track!  This salad will help because it's so good you'll not realize it's healthy.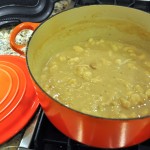 Abby, our 7 year old, came home early from school today because she wasn't feeling well.  I had picked up a rotisserie chicken earlier at the grocery store, so I whipped up a quick chicken and… Read more »
If you're like I am, you've got plenty of opportunities through the holidays to make sweets for parties and potlucks, or to give as gifts.  I made a batch of this Salted Chocolate Caramel Pretzel… Read more »
These are so easy a 1st grader could make them.  And she did!  I helped my 7 year old with the food processor, but she did most everything else.  So what I'm saying is that… Read more »