I've just discovered something! Did you know you can cook a roast FROM FROZEN in the slow cooker?  This is a game changer for me. Because, I don't know about you, but I never remember to thaw frozen foods. That's your helpful tip for today!
This recipe will work for frozen or thawed roast.  You can use beef stew meat or a whole chuck roast (which is what I had).  If you use a whole roast, just pull it out right before serving and remove all the fat. Pull the meat apart (it will probably just fall apart) and return it to the slow cooker and discard the fat. Wanna see what that looks like? It's not pretty, but here ya go.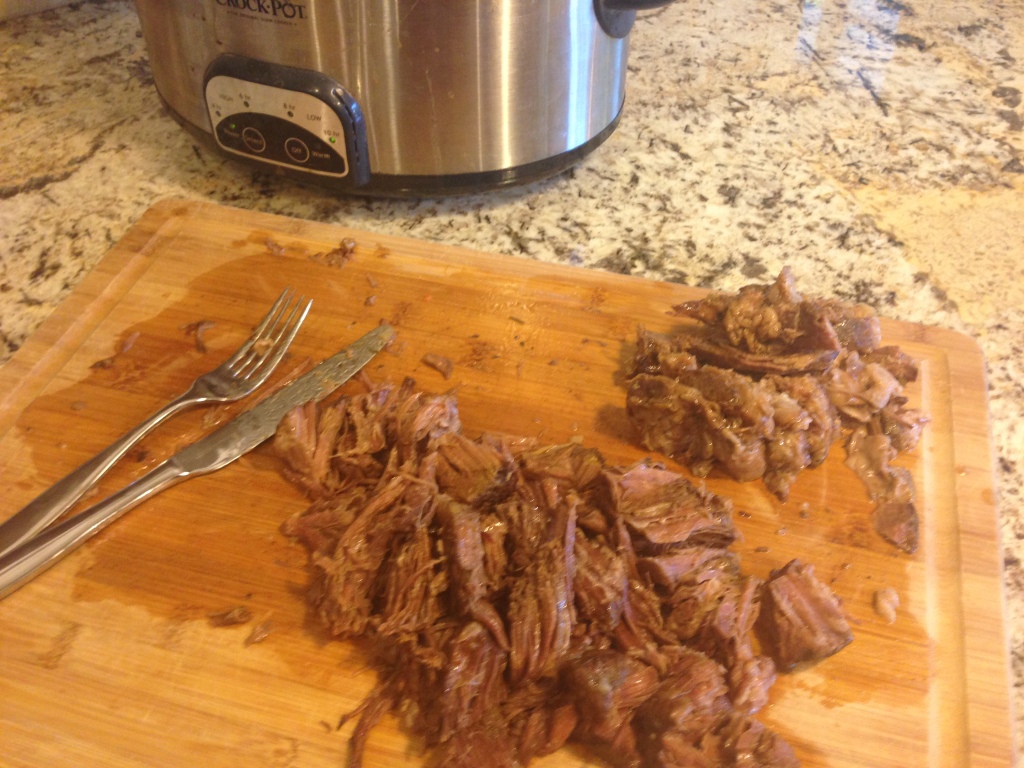 Slow Cooker Roast Beef
2 pound chuck roast (or alternately, 1-2 pounds stew meat), can use frozen
4 large carrots, cut into chunks, no need to peel carrots
4-5 potatoes, cut into similar sized hunks as carrots, I leave the leave the skins on
about 2 teaspoons salt, more or less to taste
1 teaspoon ground oregano
1 teaspoon dried basil
1 teaspoon dried rosemary
1 teaspoon black pepper
1 tablespoon paprika
1/2 tablespoon onion powder
1/2 tablespoon garlic powder
1/4 cup tomato paste
beef stock to almost cover (or chicken stock, whatever you have)
Salt both sides of the roast (or sprinkle salt all over the stew meat).  Add the beef, carrots, and potatoes to the slow cooker.  Spread the tomato paste on the roast, and add the spices and beef stock to the slow cooker.  Cook on low for 6-8 hours (or longer if necessary).  Before serving, remove roast and shred meat, discarding fat, and add beef back to slow cooker.  Combine 2 tablespoons cornstarch and 1/4 cup water.  Add mixture to slow cooker to thicken the sauce.  Stir well and let it cook for 5 minutes with the lid off.  Serve stew with crusty bread.