Here are a few easy treats your kids will love for Halloween!
These Oreo Mummies are delicious! Click here for the full recipe.
Nutter Butter cookies dipped in white chocolate with chocolate chip eyes. Spooky and easy! Click here for the directions.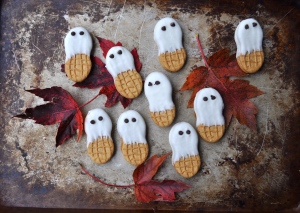 If you're going to a Halloween party, this is the perfect dish to bring along! All the ingredients are store bought, so all you have to do is assemble. So cute! Click
here
for the recipe.
This one is so easy a kid can do it (and he did!).
This Cracker Candy is good for all the holidays!