Archive for November, 2020
Use butternut squash or sweet potatoes in this recipe. Serve the bowls buffet style and let everyone make their own.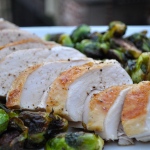 If you are hosting a small group for Thanksgiving, you might consider roasting a bone in, whole turkey breast instead of a full turkey. It really couldn't be easier, and if you have white meat… Read more »
This is the best Pecan Pie recipe.  Use a refrigerated crust (the kind you roll out) and no one will know it's not from scratch!
This recipe calls for soaking the dry beans overnight. If you forget to soak them, you can bring the beans to a boil, let them soak for an hour, rinse them, and then cook. … Read more »
I served this Chicken Piccata with roasted potatoes and broccoli,  and I drizzled a little of the lemony-butter sauce over those as well.
I used a tri-tip roast, but a rump roast, chuck roast, or even pre-cut stew meat will work great.