All posts in:
Main Dishes
This Quinoa Salad is so good you'll want to make it over and over again!  Try it with chicken or just by itself for a vegetarian option.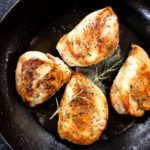 This is the way I cook chicken at least once a week; it's so easy and everyone in the family likes it.  The secret to getting the chicken good and brown is to leave it… Read more »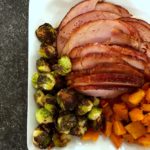 Ham is a great choice for the holidays because it feeds a crowd and is easy to cook.  Add the brown sugar glaze during the last 30 minutes of cooking. For this recipe, look… Read more »
Serve this Creamy Chicken and Spinach Bake with a side of cauliflower rice or some mashed potatoes.  Use chicken cutlets for this dish, or slice thick chicken breasts in half horizontally to make them into… Read more »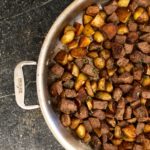 Serve this Steak and Potatoes Skillet with a side of steamed broccoli or a big salad.  You can substitute 2 teaspoons Italian Seasoning or Poultry Seasoning if you don't have fresh herbs.
This is the creamiest Mac and Cheese ever! Perfect comfort food. Serve it with a salad or if it's Halloween, as a side to Mummy Dogs!
This was a hit with the whole family and requires only assembly, no cooking!  Look in your store for meatballs that don't have many ingredients and good quality marinara.
Make sure the chicken is thin so it will cook quickly for this recipe.  I used fresh herbs, but dried herbs work great, too (just use half of what the recipe calls for). This… Read more »
Every Southerner has her own way of making Chicken and Dumplings. This is my favorite way for a rainy, cold day.
The sauce on these meatballs tastes just like Chinese takeout Orange Chicken!  If you can't find ground chicken, use ground turkey.