All posts in:
Main Dishes
Use ground all white turkey if you don't have ground chicken.
I used arborio rice, but any white or brown rice will work, just don't use minute rice or pre-cooked rice.
To make this meal go faster, mix up the coleslaw ingredients and prep the toppings.  Stash it all in the refrigerator while you cook the fish. When the fish is cooked, toss the slaw with… Read more »
Most Poppyseed Chicken recipes call for cream of chicken soup. I don't like the stuff, so I just add more sour cream and leave it out.
I love a Cobb Salad for several reasons. First, it's delicious and everyone likes it (or parts of it).  Second, it can be made hours or a day in advance, so it's great for busy… Read more »
I'm not a huge chicken salad fan.  I don't like it when you can't really see all the ingredients and it's all one color. And since I don't like mayo, I typically find chicken salad… Read more »
You're basically only making the meatballs here, so this recipe is really quick and easy!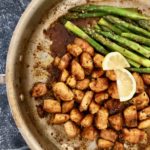 I like to make this recipe with asparagus, but fresh green beans or broccoli would work, too.
Use leftover or rotisserie chicken to make this dish even quicker.