All posts in:
Main Dishes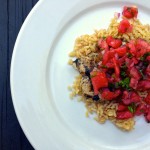 I like to eat cool meals when it's hot outside, and this dish is perfect for a summer evening.  It really couldn't be easier, and you don't even have to heat up your oven!  … Read more »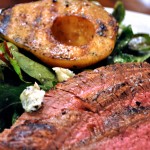 Flank steak is one of my go-to grilling meats because it cooks so quickly.  It's great for a busy weeknight or a dinner party with friends and family. Flank steak tends to be a… Read more »
I'm always on the lookout for quick dinners for busy weeknights.  Shrimp is great because it cooks fast!  And much to my surprise, the kids really liked it.   Don't skip the cilantro and toasted… Read more »
I was thrilled when Panera came out with these fresh tasting salads and bowls!  Have you tried them yet?  This is not a sponsored post, by the way. I just find myself at Panera at… Read more »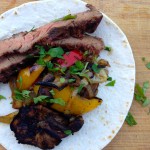 I typically like to use flank steak for fajitas, but frankly, I can't find it in my local stores most of the time.  I decided to try ribeye steaks instead, and the fajitas turned out… Read more »
Not every dinner around here is Pan Seared Cod with Mexican Quinoa  or Grilled Chicken with Rosemary Mushroom Gravy .  Most nights we have some version of chicken/fish with a veggie and salad and sometimes rice or… Read more »
I've got one child who always orders the chicken fingers off a kids menu and would eat them everyday if I served them.  So I started making these Homemade Chicken Fingers years ago for her… Read more »
This meal is so fresh it will make you want to run around the block after dinner!  I always enjoy these flavors together.
This Pan Seared Cod with Mexican Quinoa is inspired by my favorite fish tacos we had in San Diego last summer.  I think I dream about them sometimes, but if you're like me, you're trying… Read more »
Five thumbs up on this recipe!  The kids passed on the sauce and the serrano peppers, but the chicken and rice were huge hits.  John and I LOVED this recipe.  We really like these types… Read more »