All posts in:
Soup and Salad
This is the creamiest Mac and Cheese ever! Perfect comfort food. Serve it with a salad or if it's Halloween, as a side to Mummy Dogs!
This was a hit with the whole family and requires only assembly, no cooking!  Look in your store for meatballs that don't have many ingredients and good quality marinara.
Every Southerner has her own way of making Chicken and Dumplings. This is my favorite way for a rainy, cold day.
This Baked Potato Soup is so quick it might become a weeknight staple! I bake the potatoes in the microwave to save time. The peel just comes right off after they are cooked.
This recipe calls for soaking the dry beans overnight. If you forget to soak them, you can bring the beans to a boil, let them soak for an hour, rinse them, and then cook. … Read more »
I love a Cobb Salad for several reasons. First, it's delicious and everyone likes it (or parts of it).  Second, it can be made hours or a day in advance, so it's great for busy… Read more »
I like to roast an extra head of garlic to serve with crusty bread to go with this soup.  Just spread the roasted garlic on the bread like butter.  As an added bonus, your house… Read more »
This Creamy Tomato Soup freezes beautifully, so make a double batch!  Serve the soup with crusty bread or grilled cheese.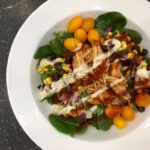 Tangy bbq sauce and creamy ranch, paired with a quick corn and black bean salsa are a great combo! I added a little jicama to my salad because I had some leftover, but that's optional…. Read more »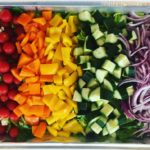 You can toss all the ingredients together, or line up the veggies Roy G. Biv style. Either way, this salad is delicious.