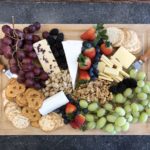 This cheese board was for a girls' night, so I kept it light with 4 cheeses, a little fruit, a few nuts, and some crackers.  Meats like salami and prosciutto are a great addition. Some people like… Read more »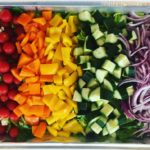 You can toss all the ingredients together, or line up the veggies Roy G. Biv style. Either way, this salad is delicious.
I'm not a huge chicken salad fan.  I don't like it when you can't really see all the ingredients and it's all one color. And since I don't like mayo, I typically find chicken salad… Read more »
The addition of the Monterey Jack cheese makes this White Bean Chicken Chili the best I've ever made! This recipe came from a good friend who has been making it for years.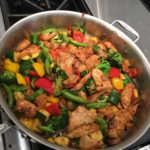 I am aware is not an authentic Chinese recipe. I don't own a wok and can't really stand the thought of fish sauce. So, this is a recipe I throw together when I want stir fry… Read more »
I actually made these up during naptime and put the cookie sheet in the fridge until dinner.  Then, I just popped them in the oven when it was time for dinner.  Fast, healthy, pretty, and… Read more »