For the the au jus part of the French Dips, you can just serve the cooking liquid on the side.  To make it even more delicious, strain the liquid, add a 1/4 cup red wine,… Read more »
I serve these burgers with cut up carrots and celery and a side of ranch dressing for dipping.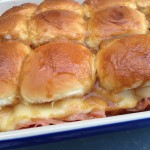 These sandwiches are great for parties because you can assemble them ahead of time and then just pop them in the oven about half an hour before you're ready to serve.  For an easy dinner,… Read more »
I like to grill the flank steak, but you can use a grill pan on the stove, too.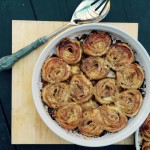 One of my most popular recipes is for Hot and Melty Party Sandwiches , and when I had a brunch event to attend I decided to try something different with this delicious recipe.  I took… Read more »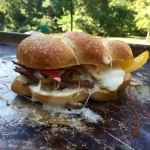 I like to add the peppers in the last 30 minutes to keep them from getting mushy. Just cut them up in the morning and stash them in the fridge until you get home, then… Read more »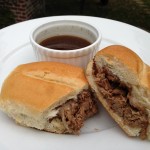 My kids have been requesting these sandwiches all weekend, so I happily obliged tonight. The beef takes quite a while to cook, but it's not hands-on, and the sandwiches come together really quickly.   You… Read more »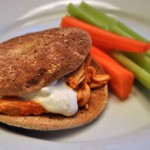 I am in love with our local wing place.  I don't care for the wings, really, but the chicken tenders dipped in the buffalo sauce are my go-to fast food.   I got to thinking… Read more »
First thing you need to do for the perfect turkey sandwich is roast a turkey breast.  None of that deli stuff.  I can't believe what a difference it makes!  And don't be scared of this… Read more »