All posts in:
Soup and Salad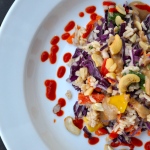 As the holidays approach, I'm always looking for a recipe that is figure friendly, can be made in advance, feeds a crowd, and isn't turkey. Thai Rice with Ginger Peanut Sauce fits the bill!  … Read more »
It's soup weather!   This Creamy White Bean soup is a winter staple of ours because 1) it's healthy 2) it's cheap and  3) it's easy.   You can prepare this recipe in the slow… Read more »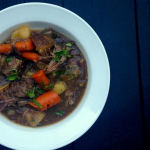 I've just discovered something! Did you know you can cook a roast FROM FROZEN in the slow cooker?  This is a game changer for me. Because, I don't know about you, but I never remember… Read more »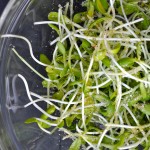 Last week at The Arkansas Women Bloggers' Conference in Rogers, Arkansas, I got the chance to try sunflower sprouts for the first time.  One of my new favorite local restaurants, The Farmer's Table in Fayetteville,… Read more »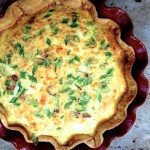 Quiche is one of those meals you can throw together with anything you have lying around.   That night you forgot to plan dinner? Quiche! That Sunday night when you just can't get off the… Read more »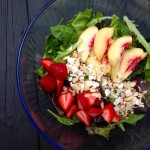 Summer is winding down, but the store is still packed with good strawberries and peaches.  I paired this salad with grilled pork tenderloin and a little rice.  A salad is always great as a quick… Read more »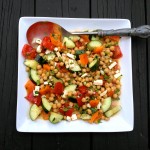 This salad is hearty enough for dinner, but you could certainly add some grilled salmon or chicken.  Serve some pita on the side to catch all the delicious juices!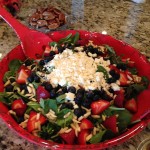 If you've been to my house or asked me to bring a potluck dish to yours, you've no doubt had this salad.  It's my go-to salad.  Sometimes I top it with chicken to make it… Read more »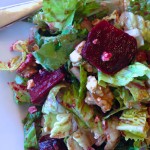 If you haven't tried roasting beets, then get to it!  Roasting beets makes them taste so much better than those gross canned ones, almost sweet, and the texture is significantly less slimy.  Sounds good already,… Read more »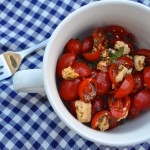 There is a food truck in my town that has amazing soups with the best names (my favorite name is "When Oprah Met Gayle").  But the thing I can't get enough of is Mary Margaret's… Read more »