Archive for September, 2020
Throw your chicken in the slow cooker 4-5 hours before dinner, and then all you have to do is shred it and assemble the nachos. And everyone loves nachos!
I bake the potatoes in the microwave to save time. The peel just comes right off after they are cooked.
I love that this recipe makes 2 loaves (one for you and one to share!).  I like to add a few oats to the top of the loaves before baking to make them look pretty…. Read more »
We love Middle Eastern and Indian food in our house, but if you don't, this is a great intro recipe!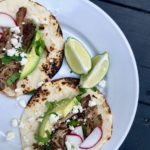 Don't skip the last step of broiling the carnitas for 5 minutes!  The meat will get crispy and deliciously caramelized.
Make a quick ranch dressing using a dry mix or just use your favorite bottled dressing.