Archive for October, 2018
Cracker Candy. Christmas Crack. Saltine Toffee. You know this stuff. It's the best.
This was a hit with the whole family and requires only assembly, no cooking!  Look in your store for meatballs that don't have many ingredients and good quality marinara.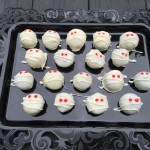 Here are a few easy treats your kids will love for Halloween! These Oreo Mummies are delicious! Click here for the full recipe. Nutter Butter cookies dipped in white chocolate with chocolate… Read more »
Make sure the chicken is thin so it will cook quickly for this recipe.  I used fresh herbs, but dried herbs work great, too (just use half of what the recipe calls for). This… Read more »
Every Southerner has her own way of making Chicken and Dumplings. This is my favorite way for a rainy, cold day.